Yoo Ah In and Ahn Eun Jin in talks to lead the new Netflix series "The Fool of the End"
Posted 2021/11/26 0
Yoo Ah In and Ahn Eun Jin will reportedly work together for the upcoming Netflix series directed by  Kim Jin Min.
On November 26th media outlets shared that Yoo Ah In and Ahn Eun Jin will be the main leads of the upcoming Netflix original series titled "The Fool of the End." The drama will be directed by Kim Jin Min ("My Name") and written by Jung Sung Joo ("Secret Love Affair").
"The Fool of the End" will be based on a novel with the same name by Kōtarō Isaka. It will narrate the happenings 200 days before the end of the world.
Yoo Ah In got the offer to play the role of priest Woo Sung Jae with a baptismal name Damiano. He unintentionally went from assistant priest to chief priest after the disappearance of the previous head priest.
Ahn Eun Jin got the offer to portray the character Jin Se Kyung. She was a former technical family teacher at Wondong Middle School before the asteroid incident. She currently works as a volunteer in the  Children's Welfare Department of City Hall.
If Yoo Ah In accepts the casting offer, he will be reuniting with writer Jung Sung Joo. The two work together for the drama "Secret Love Affair" with Kim Hee Ae.
"The Fool of the End" will reportedly start filming next year. The drama will premiere exclusively on Netflix in 2023.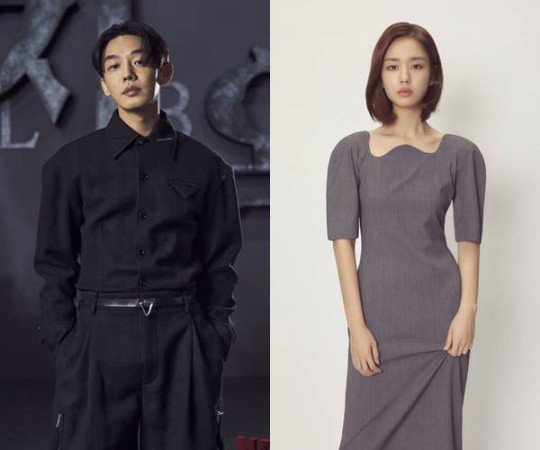 Yoo Ah In recently starred in the hit Netflix original series "Hellbound." If he accepts this drama, this will be his second original series from the OTT platform. Aside from the series, the actor will also star in a Netflix film titled "Seoul Vibe." He will also lead the upcoming movies "The Match," "Jeon, Ran," and "High Five."
Ahn Eun Jin is set to star in the upcoming drama "The One and Only" with Kim Kyung Nam, Red Velvet's Joy, Kang Ye Won, Han Gyu Won, Do Sang Woo, and more. She last starred in the second season of "Hospital Playlist 2." She also made a special cameo in the TVING series "The Witch's Diner" starring Song Ji Hyo, Nam Ji Hyun, and Chae Jong Hyeop. The actress will also appear in upcoming movies such as "The Owl" and "Citizen Deok Hee."
Do you wish to see Yoo Ah In and Ahn Eun Jin in one drama?