Kim Hye Ja and Go Doo Shim confirmed for "Our Blues"
Posted 2021/11/20 0
Veteran actresses Kim Hye Ja and Go Doo Shim are the latest addition to the star-studded cast of the upcoming drama "Our Blues."
On November 19th, it was confirmed that Kim Hye Ja and Go Doo Shim will also join the upcoming drama "Our Blues." They are reuniting with writer Noh Hee Kyung who also penned the drama "Dear My Friends."
"Our Blues" is the next collaboration work of director Kim Kyu Tae and writer No Hee Kyung. The two have worked for the dramas "That Winter, The Wind Blows," "Live," and "The World That They Live In."
The upcoming drama will depict the stories of people from different walks of life. The setting of the drama will be Jeju Island.
Other cast members of the drama are Lee Byung Hun, Cha Seung Won, Kim Woo Bin, Shin Min Ah, Han Ji Min, Lee Jung Eun, Uhm Jung Hwa, and more.
According to reports, Kim Hye Ja and Go Doo Shim will be playing as long-time friends in the drama.
"Our Blues" has already begun filming and it will premiere next year. Studio Dragon and G-Tist will produce the upcoming drama.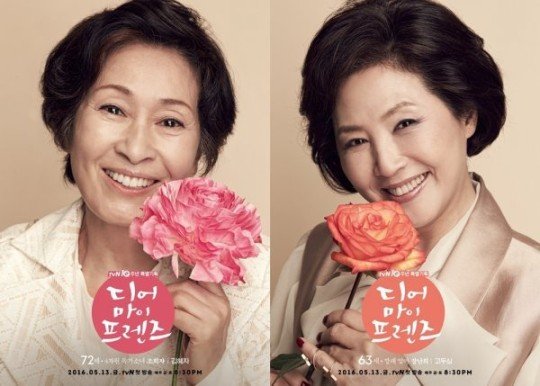 Kim Hye Ja will play the role of Kang Ok Dong. She wants to live the rest of her life peacefully. She has a love and hate relationship with Lee Byung Hun's character, Lee Dong Seok. Kang Ok Dong is a blunt mother who is gentle to others but is not friendly to her son. "Our Blues" will be the comeback drama of Kim Hye Ja after three years. She last starred in the 2019 series "The Light in Your Eyes."
Go Doo Shim will play the role of Hyun Chun Hee, a female diver in Jeju for more than 60 years. One day, her daughter-in-law entrusted her granddaughter to live with her. They will showcase the awkward and strange chemistry between Hyun Chun Hee and her seven-year-old granddaughter. For this year, Go Doo Shim will be starring in the upcoming drama "The One and Only." Aside from "Our Blues," the veteran actress will also join the 2022 drama "Island Season 1."
Are you excited about the upcoming drama "Our Blues" with top leading actors?