Kim Hee Ae and Moon So Ri are confirmed to lead "Queen Maker"
Posted 2021/11/22 0
Kim Hee Ae and Moon So Ri to be the main leads of the upcoming Netflix original series "Queen Maker."
On November 22nd, Netflix confirmed the production of "Queen Maker" announcing that Kim Hee Ae and Moon So Ri were chosen to lead the upcoming series.
"Queen Maker" is a female-centered drama that will tell the story of two women with different lives and backgrounds who leave everything they have and work together to create a just and truthful world. Hwang Do Hee is a genius in strategic planning at large companies and Oh Seung Sook is a human rights lawyer. The two will join forces to jump into the election to become the Seoul mayor.
The upcoming series will be helmed by Oh Jin Suk ("My Sassy Girl" and "Love with Flaws"). The script will be penned by screenwriter Moon Ji Young ("Who Are You"). Other cast members of the drama include Ryu Soo Young, Kwon Yool, Koo Ja Sung, and more.
Kim Hee Ae will portray the role of Hwang Do Hee. She's the head of Eunsung Group's strategic planning office. Do Hee is known for smoothly handling the issues of the company by her excellent image-making strategy that controls public opinion. One day, she decided to join the Seoul mayoral election camp of a human rights lawyer who was against the  Eunsung Group.
Moon So Ri will bring life to the role of Oh Seung Sook. She's a labor and human rights lawyer. She has always been on the side of the weak and fought against those who take advantage of them. She will then run for the Seoul mayoral election with the determination to create a good world.
"Queen Maker" will exclusively be available on Netflix.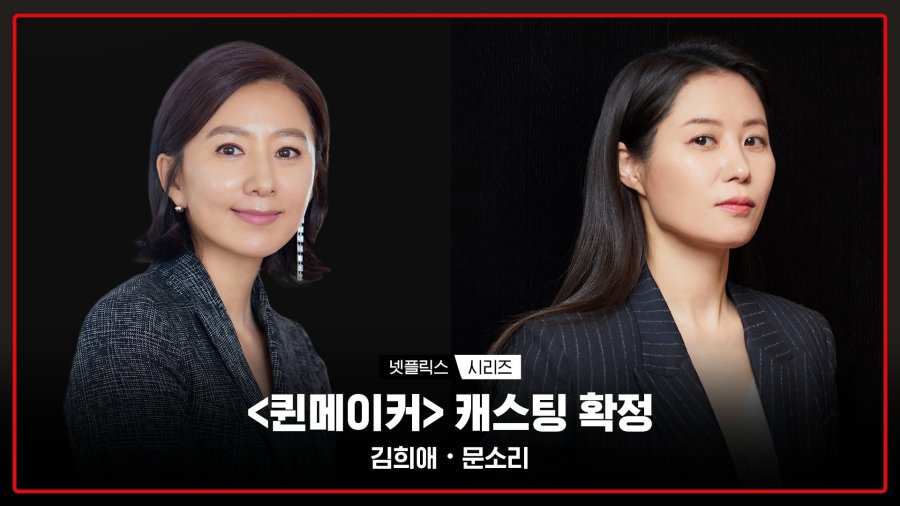 "Queen Maker" will be Kim Hee Ae's comeback to the small screen since the hit drama "The World of the Married." The actress will also star in the upcoming films "The Moon" and "Dead Man.
Meanwhile, Moon So Ri last starred in the 2021 series "On the Verge of Insanity." The drama "Queen Maker" will be her follow-up project. The actress is also starring in the upcoming movies "Seoul Vibe" and "I Want to Know Your Parents."
Are you excited to see the comeback drama of top actress Kim Hee Ae?