Watch: Vincenzo
Posted 2021/03/26 0
Are you wondering whether the new show Vincenzo is really worth all the hype? From its well-known actors to its intricate narrative, here are some highlights of the show!
WARNING: MINOR SPOILERS FOR EPISODES 1 – 4!
---
Title: Vincenzo

Where to Watch: Netflix

Genres: Comedy, Law, Romance, Crime

Number of Episodes: 20

Duration: 1 hour 25 minutes

Airing Dates: February 20 – April 25 (2021)

Airing Schedule:  Saturday, Sunday
---

A story of a former member of the Italian mafia as he steps into the country of South Korea.
With his goal of leaving Korea as soon as possible with money in hand, Vincenzo Cassano is a lawyer from Italy who aims to collect the money that is underneath a building called the Geumga Plaza. After the Babel E&C Company illegally became the new owner of the building, Vincenzo goes against Babel E&C and starts to get involved in the political and financial side of Korea.
Along the way, he shows impressive skills, bonds with the people living in Geumga Plaza, and meets Hong Cha Young, a lawyer who is seeking revenge against Babel E&C. Together, each of the characters fight for justice, even as their reasons for fighting are different.
---

Vincenzo (Actor: Song Joong Ki)

Vincenzo Cassano is a lawyer who used to work as one of the best consigliere (advisor) of an Italian Mafia boss. After the death of the boss, he travels back to Korea to collect a deposit of money that is underneath a building called the Geumga Plaza. Originally, he indirectly owns Geumga Plaza as he bought the building with his friend's name.

Vincenzo is a character with many connections due to his past in Italy, experience with violence and threats, and who speaks both Italian, English, and Korean. Throughout the drama, he is known to carry his lighter around.
Hong Cha Young (Actress: Jeon Yeo Bin)

Hong Cha Young is a lawyer who used to work at Woosung Law firm and once took pride in her work at the law firm, whether it is with bribes or hiding information. She had a tense relationship with her father because of her mother's death, but deep down, both of them care for each other.

Soon after her father's brutal murder, Cha Young leaves Woosung Law firm and joins hands with Vincenzo on a road for revenge against Babel E&C.
Jang Jun Woo (Actor: Ok Taec Yeon)

Jang Jun Woo was an intern at Woosung (Wusang) Law firm under Cha Young and eventually became a partner at the law firm. He has recently returned to Korea from New York, studying at Stanford Law School. His character often switches to English for certain phrases and seems quite easy going.

On the other hand, Jang Jun Woo is also the hidden but real owner of Babel E&C and the elder half-brother of the "CEO" of Babel E&C. This hidden side of him is strict and purpose driven.
---

The Powerful Cinematic Effects and the Accompanying Classical Music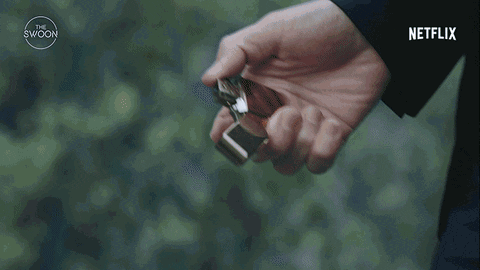 From the very first episode, one word to describe the whole drama is: powerful. The fiery explosions. The sparkling parties. The slick car. Other than all the scenes, objects, and people that scream "power", the cinematic effects, camera angles and the visuals are just as stunning. Naturally, like many other K-dramas, this is also a drama where the characters walk with power.
The sound effects are quite spectacular as well, with the violins and drums playing, matching well with the current narrative and scene. For example, later on, we have a scene about bees and hornets that even has an accompanying well-known classical piece called "Bumblebee".
The gif on the top right is a sample scene within the first 10 minutes of the first episode, where Vincenzo lights up a whole vineyard in Italy.
The Comedy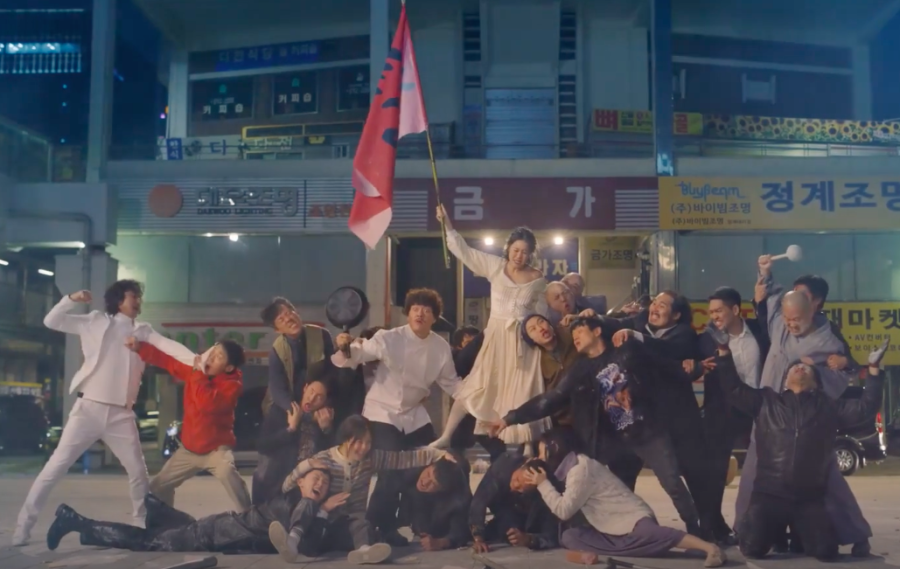 One of the best aspectsof the drama are its comedic scenes. While the terms that are often mentioned when discussing this drama, such as Mafia and Lawyer, this drama actually tends extremely towards the comedic side rather than the serious side.
The first comedic group is the residents of Geumga Plaza. Here, there are dancers that dance like zombies, a supposedly good Italian cook, a rebellious teenager, two iconic monks, and many more. Each of their actions, conversations, and fights brings out laughs. The picture on the top right is a picture of these residents gathering around and stepping on the Babel E&C people who came to take their homes away.
Similarly, unlike many law K-dramas that have an intense and knowledgeable session at court, both Vincenzo and Cha Young bring a completely new side to law with their tricks, and even the witnesses they bring in are quite interesting!
The Action Scenes & The Strategies and Tactics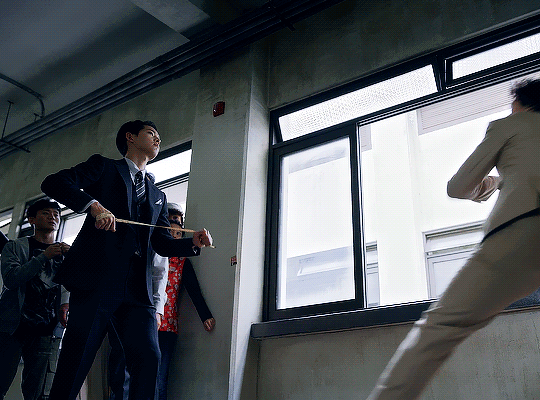 Naturally, this drama does have severalaction scenes. These scenes include the use of guns, fire, physical fights and more. The gif on the right is Vincenzo semi-fighting. However, that being said, be aware that unlike the common thought that Vincenzo is about the Mafia, this drama does not completely focus on violence.
Now, the fun strategies! Vincenzo, the male lead, is full of ideas to counter advance the opposing party, where he often relies on his connections with influential Italians and his experience with the mafia; after all, he was the advisor of a mafia boss. In court and out of court, each of his tactics cause quite a big show, which goes hand in hand with the cinematic effects.
---
My Personal Suggestion:
A low expectation drama is much better than a high expectation drama, meaning although it is hard to not have high expectations since many clips have already spread throughout the internet, it would still be great to try not to have high expectations for this drama to enjoy it more!
Link to the Trailer: https://youtu.be/S12-4mXCNj4
---
What are your thoughts? Will you be watching this drama?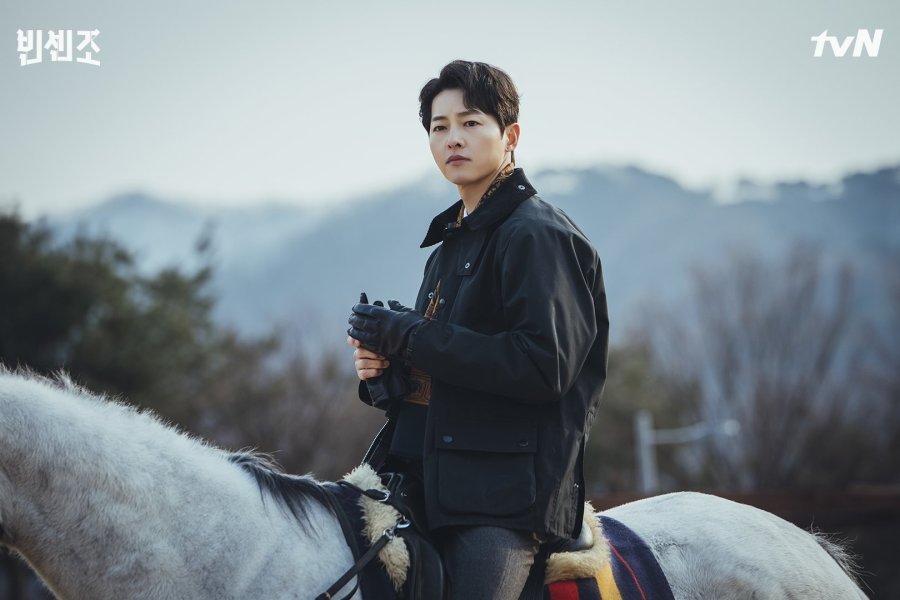 ---
Edited by: KimWanHee (1st editor)